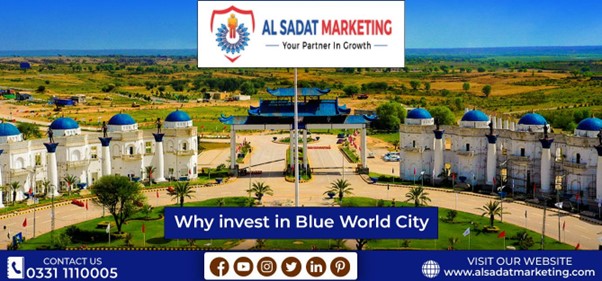 Blue World City is one of the most desired residential societies in Rawalpindi which is constructed and designed by the Blue Group of Companies (BGC). Blue Group of Companies is in close collaboration with the world-renowned Shan Jian Municipal Engineering Company. Blue World City is strategically built near the Chakri Interchange and the newly proposed Rawalpindi Ring Road. 
It is one of the top-ranked housing communities in Rawalpindi. Blue World City is currently one of the most affordable housing developments and has gained a lot of popularity from investors. Despite its size, it is the most cost-effective housing project built by Chinese investors, with a simple and easy payment plan that appeals to investors. The fact that it is close to the twin cities of Islamabad and Rawalpindi is a benefit.
The project is being built with the intention of becoming Pakistan's new commercial center. Blue World City will be the first residential housing society to be approved as a Pak-China Friendly City. This housing scheme project being constructed by Chinese investment would provide a market for Pakistani and Chinese manufacturers with easy access to local and international clients via the CPEC route; M-2 Motorway–located near New Islamabad International Airport.
Blue World City also offers online services including blue world city verification, online installment, online verification of registration certificate, and application status. Because of its central location and state-of-the-art infrastructure, the future holds enormous potential for tremendous returns on investments in this housing society. 
Blue World City is a fantastic option for real estate investors and the general public wishing to buy or build their dream house. The most appealing aspect of this project is the reasonable payment plan. People nowadays seek a home in an urbanized setting with world-class amenities and natural vegetation.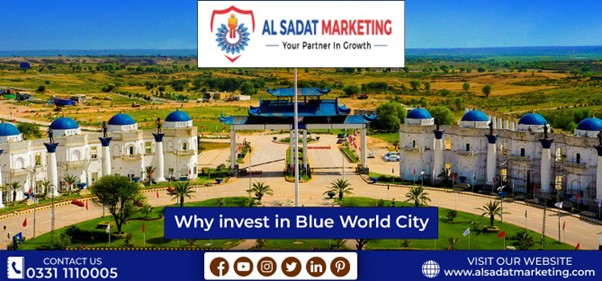 Trusted Developers
Blue World City is a project of the Blue Group of Companies which is owned by Saad Nazir, the son of Lahore's ex-Deputy Commissioner Ch. Nazeer. Blue Group of Companies has struck a memorandum of Understanding (MOU) with Shan Jian Municipal Engineering Company, a globally recognized Chinese firm, to ensure that the promise of world-class development is delivered in Pakistan. 
The Blue Group of Companies was founded in Lahore in 1989. Initially, the company offered architectural design and construction services.
By attracting the attention of clients and respectable investors in the industry, the company was able to quickly establish a solid reputation as a trustworthy and professional organization. The company is now regarded as one of Pakistan's top five real estate development firms, with a global presence.
Prime Location
Blue World City Rawalpindi is located near the Chakri Interchange on the main Chakri Road, with direct access from the M-2 Lahore-Islamabad Motorway. Blue World City is also one of the housing societies near twin cities, as well as very close to the New International Airport Islamabad.
Blue World City delivers a lavish lifestyle away from all the hustle and bustle of city life and offers a calm, pleasant, and elegant living environment that no other housing project in Pakistan offers its residents. This is how we distinguish the Blue World City from other Rawalpindi housing societies.
The Blue World City project offers one of the most convenient access points to Islamabad and Rawalpindi while also providing a peaceful, serene, and luxurious living environment that no other residential project in Pakistan has provided, and this is what sets the BWC apart from other Pakistani societies.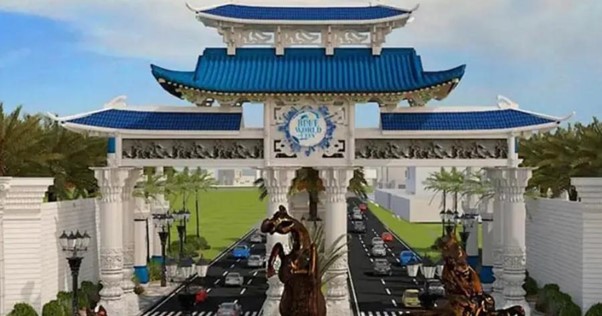 Features and Facilities
This housing project will be a wonder of Chinese development and architecture. Not only it is the most affordable housing society in the area, it is also specifically planned to meet the need to accommodate the influx of over 2 million Chinese residents moving into Pakistan for the CPEC route project in the next few years.
To fulfill this requirement, it has become essential for the society to introduce international standard facilities and infrastructure to not only facilitate Chinese residents but also to improve the standard of living for Pakistani citizens.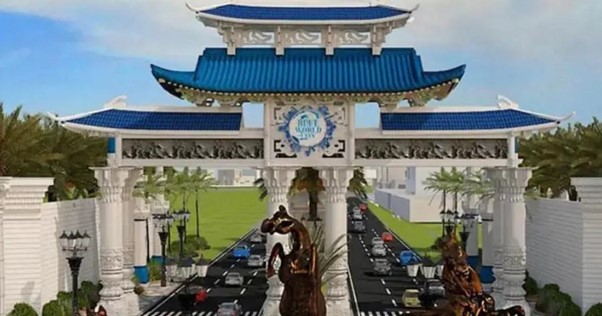 The housing project will introduce the following futuristic, never before seen amenities to its residents:
Replica of Blue Mosque at Turkey
Blue Mosque in Istanbul, Turkey is a marvel of classical architecture built between the years 1609 by Muslim designers and architects who have inspired the planners of the Blue World City to build a replica of this monumental mosque in the society to restore Islamic values and culture in Pakistan.
After the Faisal Mosque, the replica of the Blue Mosque will become a landmark and will attract visitors to this society. The mosque will truly represent and complement the theme of Blue World City.
The biggest Water Theme Park in Pakistan
Park which will include fun water rides, slides, wave pools, volcanic waterfall, specially designed water pools for underage children, and water surfing. The society has planned to build the biggest and Pakistan's first International water theme.
Gated Community
Blue World City Islamabad will be a heavily guarded and gated community. Unauthorized people will be prohibited in society. A secure boundary wall will surround the society to add a layer of security. Additional features such as face recognition and key cards will be incorporated into the society to avoid unwanted visitors and mishaps in the society.
24/7 Security
Blue World City Islamabad takes the security of its residents and visitors very seriously, a specially trained security team will monitor and ensure the safety of its residents 24/7. CCTV cameras will be installed throughout the society to build a secure environment in the housing society so you can enjoy a luxurious stress environment.
Safari Zoo
Yet another striking feature in the society will be its Safari Zoo, with a safe drive through a path amid the society with wild animals roaming freely will not only be exciting but will provide an unforgettable experience for the visitors. The zoo will contain a variety of different species of animals and birds imported from all around the world.
Conclusion
Blue World City is the most affordable housing project that would change public perception of reasonable housing in Rawalpindi. Blue World City is also suitable for people who have a tight budget so they can invest in society as well, providing a safe and comfortable environment for their families along with having full access to the world-class amenities of Blue World City Rawalpindi at an ideal location.
Blue World City has the most reasonable prices along with the most convenient installment plan and due to its easy installment plan, individuals with a low income can also afford Blue World City's luxurious housing for their families. Blue World City is a society that is offering recreational parks, shopping centers, cinemas, and elite entertainment clubs for its residents in addition to supplying basic essentials like gas, water, and electricity.
You can secure a trendy, luxurious, and comfortable lifestyle by investing in Blue World City society. The residences in Blue World City are available for immediate possession with flexible payment options.
The Blue World City is located near the CPEC route, which will contribute significantly to the area's socio-economic development. This project's value is enhanced by its proximity to the New Islamabad International Airport and the recently approved Rawalpindi Ring Road. Additionally, it would provide various commercial opportunities for the residents of that area.
Al Sadat Marketing is one of the leading companies that has been providing its marketing services in Pakistan's Real Estate sector for more than a decade and has seen great growth while gaining widespread public trust. Al Sadat Marketing constantly provides its clients with the best deals and strives diligently to meet the demands of each investor.
Please contact us or visit our office if you require additional information, have questions, or wish to sell or purchase residential or commercial plots. Call us at 0331 1110005 or visit www.alsadatmarketing.com.