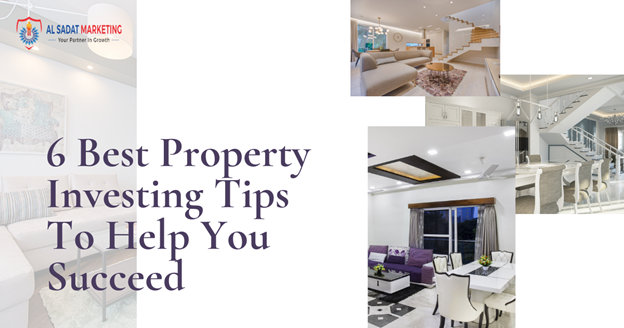 6 Best Property Investment Tips to Help You Succeed in 2022
Real estate investing success is no stroke of luck! If you've been investing in real estate for a time, you're aware that it necessitates a high level of understanding and sensitivity. Al-Sadat Marketing assists you in making property investments in Islamabad and Rawalpindi.
Everyone wants to invest in real estate these days. Property investing in Islamabad and Rawalpindi has become a goldmine from which everyone wants to profit. Today, we'll share with you some of the greatest advice for investors for property investment in Islamabad that we've learnt from our expertise.
1. Invest in new real estate developments
The new home projects have a strong chance of increasing in value over the following few years. Many new housing developments in Islamabad, such as Rudn Enclave, Kingdom Valley, and new CDA sectors, offer the possibility to invest at affordable rates and profit quickly.
Furthermore, you should not limit your earning potential by limiting the region in which you want to spend too much. If you want to invest in other cities, you need to first learn about their real estate
2. Understand your financial constraints
You can be a successful investor for a long time, but if you push all of your properties to the limit, you will eventually go bankrupt. It is preferable to leave some of your assets alone. Then you have a fair level of security, but you should still diversify your portfolio.
Furthermore, you should never put all of your money into a single endeavor. In the worst-case situation, you will lose your whole investment.
Are you thinking about investing in real estate in Islamabad? Concentrate on all the concerns and seek professional guidance as well. Then you'll be able to deal with unexpectedly prolonged dry times with little or no cash flow.
3. Before investing, do your research
Property investing in Islamabad has grown profitable, and most realtors encourage you to invest quickly. However, you must conduct due diligence to determine whether or not an investment property makes sense for you.
Do your research and learn everything you can about your investing prospects before making a choice.
Enquire about the added charges. Sometimes you spend on an edge in the hopes of making a fast buck. However, there are other expenses to consider, such as transfer fees, taxes, and so on. It is now more crucial than ever to remain current on new regulations, taxes, and other financial duties.
4. Grow with the help of professionals and instructors
Most new real estate investors are certain that they will take care of any outstanding obligations related to the property they have purchased. That is okay as long as you have the necessary time, energy, and knowledge.
However, if your portfolio increases, you may consider delegating part of the work to specialists such as real estate agents and property managers like Al-Sadat Marketing.
When you begin operating your property on your own, you should pay yourself a paycheck. Not only might this provide tax advantages, but you should also be conscious that your time is important and should not be squandered.
5. Set aside money for tough times
When investing in real estate, make sure you have enough cash on hand to cover unanticipated expenses and to get through periods of no cash flow.
6.Stay patient
Real estate investments are long-term investments in capital. The value of real estate is only gradually growing. A quick growth in value in regions such as Islamabad can sometimes last for a long period.
Be patient and trust in the real estate market cycle. Low market prices only affect you if you sell it immediately. Contact Al-Sadat Marketing for experienced real estate guidance and property sale/purchase.