Pakistan will benefit politically and economically from the Rawalpindi Ring Road Project Economic Corridor (RRPEC)!
There are questions, inconsistencies, and frauds along the most anticipated and vital Ring Road, which connects the twin cities of Rawalpindi and Islamabad. The Rawalpindi Ring Road (RRR) project was relaunched in 2020, and ever since, individuals of authority such as business moguls, real estate moguls, bureaucrats, and political parties have been paying close attention to it because they believe it would herald in a new era of growth and prosperity. It is a cooperative effort between Punjab's national and provincial governments.
What is Ring Road?
A ring road, sometimes referred to as a circular road, is a network of connected highways that encircles a town, city, or country. Metropolitan circumferential highways are referred to as "Ring Roads" in European countries. say, the Amsterdam Ring.
Over time, Pakistan saw the introduction of roadways, known as "Ring Roads," which encircle towns and cities to improve accessibility. The "Lahore Ring Road," "Peshawer Ring Road," and "Hyderabad's Outer Ring Road" are the three ring roads in Pakistan. Another Ring Road is under constructed in twin cities named Rawalpindi Ring Road. The proposal for this ring road was first proposed in the early 1990s, however it is not yet feasible.
Rawalpindi Ring Road – History
The most anticipated project in Rawalpindi and Islamabad, also referred to as the "twin cities," was the Rawalpindi Ring Road (RRPEC). It was started in 1991 by the Rawalpindi Development Authority (RDA), but due to certain political and economic issues, the government and relevant authorities were unable to carry it out.
The responsible authorities allocated a budget of around 6.7 billion for land acquisition at the time of the proposal, since the Government of Punjab saw this program as a means of improving Pakistan's regional and economic conditions. In addition, this route was designed and developed to accommodate the high volume of traffic between the twin cities and to facilitate easy access to the residential societies situated in that area.
In 2008, a new feasibility study on RRR was carried out, and the reports suggested building a nearly 75-kilometer road that would connect Channi Sher and Fateh Jang. Subsequently, the Capital Development Authority (CDA) and the Rawalpindi Development Authority (RDA) ordered that the road's length be lowered to roughly 54 km and made some adjustments to the study. These modifications are only being made in order to lower the project's overall cost.
Development Status and Allotted Budget
The project's tender was re-launched in March 2021 with the goals of revitalizing the twin cities, addressing traffic congestion, and fostering economic activity in the area. The route will be 65.5 km long with six lanes on either side of the freeway, according to announcements made at the time by Tariq Murtaza, Chairman of the RDA. Alongside these primary routes will run service roads, and the primary routes will function as signal-free thoroughfares.
According to the report, Usman Buzdar, the chief minister of Punjab, has approved about 50 billion rupees in funding for the construction of the Rawalpindi Ring Road Project Economic Corridor (RRPEC) through a private-public partnership. As this incredible project gets closer to completion, it will undoubtedly help wholesale markets, Small and Medium-Sized Enterprises (SMEs), and reduce traffic congestion by facilitating easy access to twin cities.
This scheme's development will be nearly finished in two years. There will be three stages to the creation of this amazing project. According to the press, RRR is receiving special attention from the public and the government because it would greatly improve the nation's infrastructure.
Rawalpindi Ring Road – Developers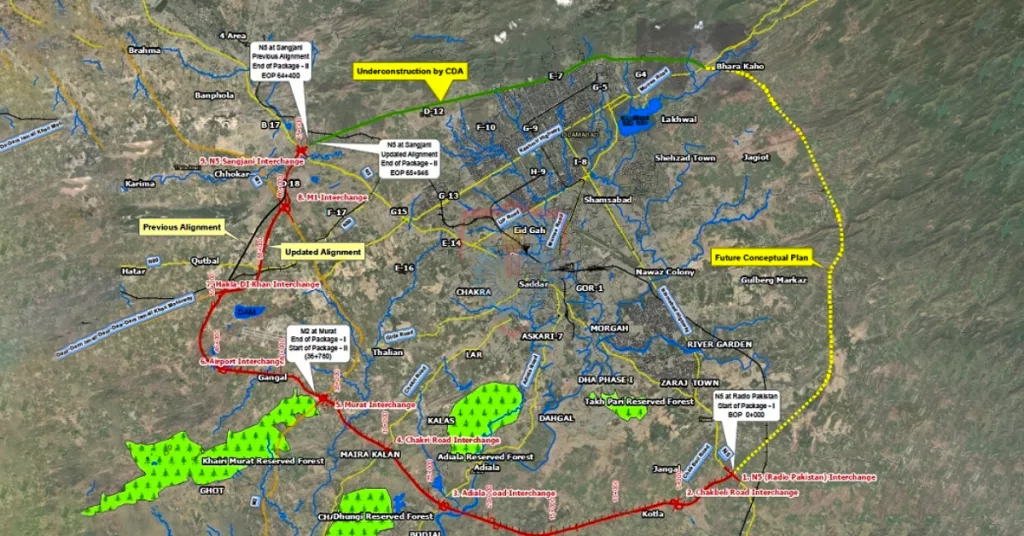 Since the Rawalpindi Ring Road is over 65 km long, the Capital Development Authority (CDA) will develop 10 km of this road from the Sangjani interchange to Margalla Road. RDA will be responsible for developing the remaining section. The project will likely be developed in conjunction with "Zeek and Engineering General Consultants," according to the developers.
Proposed Alignment of Rawalpindi Ring Road
The proposed route of Ring Road Rawalpindi goes and navigates around the periphery of both Rawalpindi and Islamabad, avoiding the urban settlements and people. The width of the road will be 300 feet.
Eight separate interchanges will be connected to this road: the M2 motorway interchange, the Rawat interchange, the Adyala interchange, the Chakri interchange, the Radio Pakistan interchange, the Islamabad International Airport interchange, the Sangjani interchange, and the Chak Beli interchange.
The projected Ring Road will begin at G.T. Road (Rawat) and travel from Murat to Sangjani before terminating at Islamabad's Zero Point. About 50 kilometers of this road's route—from Rawat to Thallian Interchange—will be in the Rawalpindi region, and the remaining 16 kilometers will be in Islamabad.
The RRR route will pass via Islamabad's Margalla Road, F-series sectors, Kohsar, Bhara Kahu, Kallar Sayedan, Shah Allah Ditta, and Siri Saral before looping back to Rawalpindi.
Rawalpindi Ring Road Map
The "Rawalpindi Ring Road" map indicates that it will travel in a circle, beginning in Rawat and ending at Islamabad's zero point. This loop will link various Rawalpindi and Islamabad areas. This project would link the CPEC Route with Fateh Jang Road. It is related to CPEC.
On the map, this relationship may be easier to see. The RRR map virtual image is attached below.
Rawalpindi Ring Road Road Accessibility
As of right now, the Ring Road Rawalpindi plan and blueprint has changed. The road will now start at Rawat, which is close to Radio Pakistan Tower, and travel through Adiyala Road, Chak Beli, Murat, and Chakri Road. The M-2 Motorway will be connected to this road at the Thalian Interchange. It goes without saying that several societies, namely DHA Phase 2, Bharia Town, and especially DHA Phase 3, will profit from this proposed Ring Road. In a matter of minutes, travelers can travel via the motorway to arrive in Rawat from this route.
Read More: The Most Expensive Properties in Islamabad 2023
This Rawalpindi Ring Road will connect to several important thoroughfares and sites, including:
Chak Beli Roads will be the first RRR root link. Even if there are no residential or commercial real estate projects in this area, land values will continue to climb.
Adiyala Road would be the second important link, providing people with easy access to Rawalpindi and Islamabad without any traffic jams. The societies that are included in this connection are Rudn Enclave and Bharia Phase 3.
Chakri Road will receive the third main link. Due to the lack of easy access to twin cities, real estate ventures will profit the most from this location. This link leads to a plethora of societies, including Mumtaz City, Al-Haram City, Top City, Blue World City, and Capital Smart City.
According to the suggested Ring Road Rawalpindi layout, Thalian Interchange will be the location of the fourth significant link. This interchange will facilitate access to the M-2 Motorway. The Foreign Office Employees Cooperative Housing Scheme, Kohsar View, Sector I-16 Islamabad, Sector I-15 and I-14, and CBR Town are among the societies that would benefit.
Furthermore, although the links have not yet been established by the authorities, this road will pass past the New International Islamabad Airport and lead to Fateh Jhang Road, according to real estate insights. In this case, Nova City Islamabad is among the communities whose land values will soar.
Features of Rawalpindi Ring Road
Some of the salient features of this amazing venture are as follows:
10 overhead bridges
300 ft wide
6 Flyovers
Will connect with educational cities, health centers, fuel stations, and community centers
3 satellite zones
Fruit and vegetable market in Rawalpindi will be shifted to the proximity of Ring Road
Will deal with the traffic congestion by providing and diverting access to 50,000 vehicles of twin cities.
Why is Rawalpindi Ring Road an Economic Corridor?
Because the Rawalpindi Ring Road (RRR) will stimulate economic, political, and real estate activity throughout Pakistan, it is seen as an economic corridor. This road will connect several areas near Rawalpindi and Islamabad in addition to rerouting the clogged traffic flow between the two cities. It also provides direct access to the Islamabad-Lahore Motorway.
Read More: Rawalpindi Ring Road Construction Starts | Which Society Will Get Benefit?
As previously indicated, the addition of six-lane service roads to Rawalpindi Ring Road is expected to stimulate the real estate market by increasing the value of nearby real estate developments. Without a doubt, the real estate market will gain from the development of RRR in terms of price increases.
This road will begin at the M-1 motorway and travel to the International Islamabad Airport by circling around the eastern portion of the China-Pakistan Economic Corridor (CPEC) route. It will then proceed towards the Margalla road, passing close to the Sangjani Interchange. Numerous social norms will profit from this lengthy path in terms of accessibility and economy.
Pros & Cons of Rawalpindi Ring Road: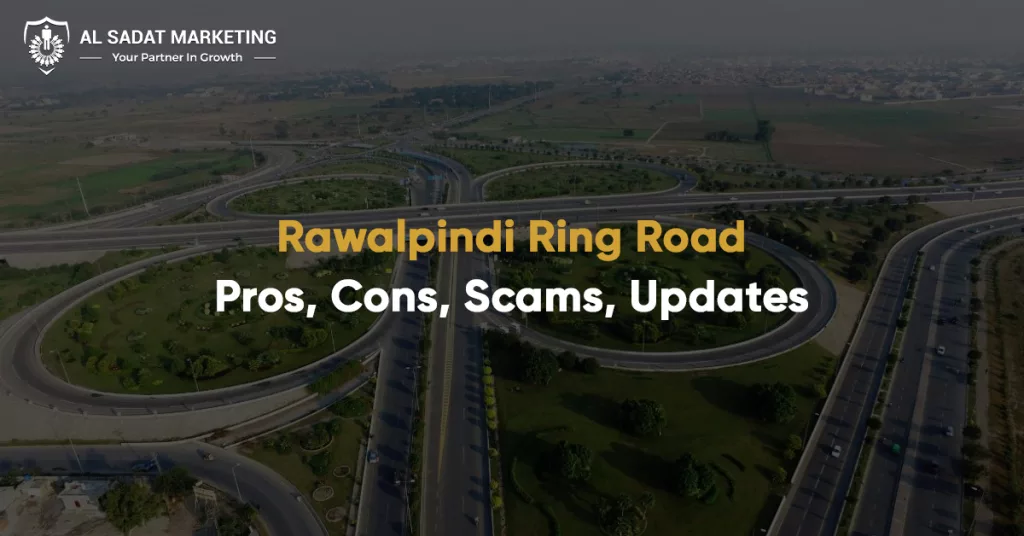 Pros
One of the infrastructure features in the nation that offers numerous advantages is the ring road. The Rawalpindi Ring Road Project Economic Corridor (RRPEC) has the following advantages.
It will be advantageous to reroute the heavy traffic from Rawalpindi's downtown via the Rawalpindi Ring Road.
will make the M-2 Motorway easily and directly accessible.
The new International Airport in Islamabad is easily accessible.
will make it easier to access the nearby real estate projects, which will help the Rawalpindi and Islamabad real estate markets.
Because there will soon be several housing societies developed in RRR, builders and constructors will have new opportunities.
This road will be used by InterCity High Traffic Vehicles instead of the Islamabad Expressway.
Margalla Road, which connects the G.T. road directly to Islamabad's residential areas and tourist attractions, will make it simple for visitors and tourists to go around.
Alongside the Rawalpindi Ring Road, various commercial hubs will be developed, improving the financial circumstances of small investors, business owners, and the nation at large.
Cons
Even though the Rawalpindi Ring Road's progress is opaque, there are still several drawbacks, which are as follows:
The Rawalpindi Ring Road necessitates significant financial outlays.
Locals will have their land acquired as a result of RRR construction; although they receive financial compensation for their land, there have also been reports of illicit land grabs within RRR's jurisdiction.
The private sector must also accept ring roads.
The building of Ring Road Rawalpindi is linked to a number of environmental effects. Additionally, it would open up new project opportunities in Pakistan's metropolitan center.
The Rawalpindi Ring Road will be notable as a highly profitable channel for unforeseen outcomes once it is constructed.
Investment Opportunities Near Rawalpindi Ring Road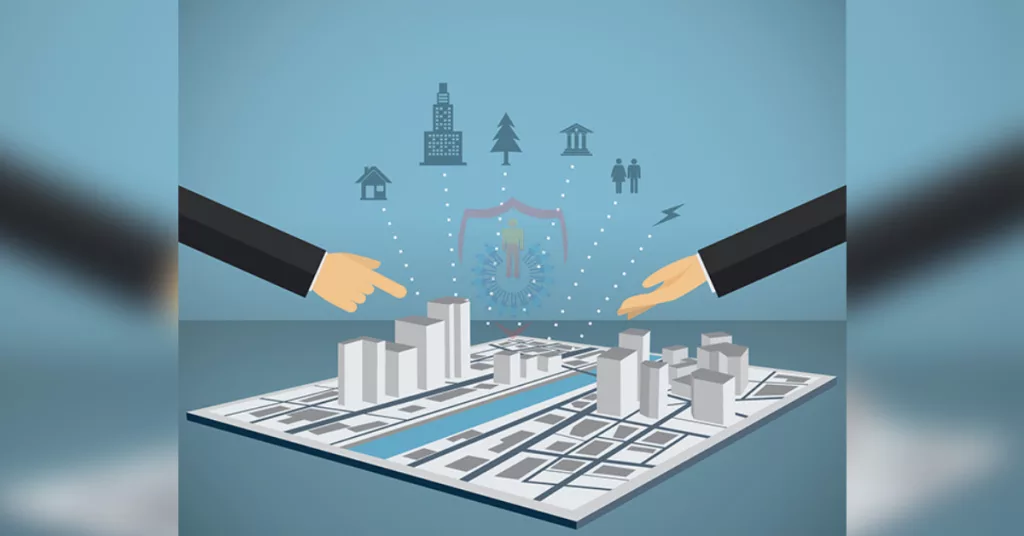 One of the sectors that the Ring Road Rawalpindi would greatly benefit is the real estate market, which will raise the cost of real estate developments that are located close to the Ring Road. Let's examine the communities that are close to Rawalpindi Ring Road (RRR) and have the potential to be prominent real estate developments.
DHA Islamabad, Phase 3
Capital Smart City
Nova City Islamabad
Rudn Enclave Rawalpindi
Blue World City
Bharia Town Phase 8
Top City Islamabad
DHA ISLAMABAD, PHASE 3
One of the most sought-after and desirable housing societies in the twin cities is the Defense Housing Authority (DHA), one of Islamabad's premier real estate developments with upscale amenities for living. Although there has been need for this project from its inception, Rawalpindi Ring Road's completion will improve society overall and in Phase 3 of DHA particularly.
DHA Phase 3's stunning location makes it the best investment option available from RRR. There are two entrances to this phase: one is located across from Giga Mall, while the other is along the major G.T. Road, on Rawat.
Read More: Top Areas to Buy Property Near Rawalpindi Ring Road
Phase 3 of the Defense Housing Authority (DHA) is a gated community with all the amenities of a basic life, including mosques, green spaces, commercial areas, a waste management system, and contemporary infrastructure.
The tariffs in this area have considerably increased after the introduction of RRR. Although this civilization is still in the process of developing, the costs have already skyrocketed, so funding this project will pay well.
CAPITAL SMART CITY
Smart city capital Islamabad, Pakistan's first smart city, is an excellent project that stands out among others of its sort. The M2 motorway and the New International Islamabad Airport are both close to this real estate complex.
It is an eco-friendly, self-sustaining civilization that combines technology and a smart lifestyle in terms of amenities and facilities. The proprietors of this project are Future Developments Holdings Pvt Ltd. & Habib Rafique Pvt. Ltd. Because RDA has approved this proposal, its legal position is pretty obvious.
Investors are drawn to Islamabad Capital Smart City because of its sophisticated features and prime location. It is favorably connected to the M-2 Motorway and Rawalpindi Ring Road, which has enhanced Capital Smart City's standing as a premier investment prospect. It is located near the eastern path of the China-Pakistan Economic Corridor (CPEC).
After the intended ring road is developed, The Capital Smart Cityan amazing real estate project with excellent commercial and residential plots that are yielding significant returns on investments—will become Pakistan's premier smart city.
NOVA CITY ISLAMABAD
An expanding community called Nova City Islamabad is situated near to Fateh Jhang Road and the CPEC corridor. This remarkable real estate project is connected to the Rawalpindi Ring Road, which contributes to the landmark's high demand.
This community is intended to offer convenient access to all opulent amenities in Rawalpindi and Islamabad. People are trusting this real estate project because Nova City developers are renowned for their high-quality infrastructure and are constructing and growing this civilization. Although the owners have not yet reached the Nova City NOC, the project is the focus of interest for investors and locals because of the Rawalpindi Ring Road and the CPEC route.
The value of this project has increased and will continue to climb in the near future due to Nova City's great location close to the International Islamabad Airport and its major entrance linked with Rawalpindi Ring Road. The development charges are included in the plot pricing, which makes investing early in this project a wise move. This is just another advantage of Nova City.
RUDN ENCLAVE RAWALPINDI
Adiyala Road is close to one of the largest real estate projects under development, Rudn Enclave Rawalpindi. This project is a great investment because of its exceptional position, which connects it to all the important twin city regions. One of the project's advantages is that the well-known Adiyala Interchange is directly across from the main entrance.
According to the Rawalpindi Development Authority (RDA), this real estate project is used to plan the line of the projected Rawalpindi Ring Road, and as a result, it has quickly become well-known.
Rudn Enclave Rawalpindi is the talk of the town these days due to its prime location as well as its cost-effective modern amenities, cutting-edge features, and excellent development standards.
As the project's development and construction have progressed, investors from both twin cities have expressed interest, which has led to an increase in rates. This project is a desirable one to invest in following RRR's introduction because it will provide investors and locals with quick access and assured returns.
BLUE WORLD CITY
One of the real estate developments that will profit from the underutilized Rawalpindi Ring Road is Blue World City Islamabad. With its main entrance located next to the road, inhabitants will have quick and easy access to the twin cities' most important locations.
Blue World City Islamabad is the only society listed as the top choice among twin cities. People have demonstrated a great deal of trust in this project because it is being carried out by the Blue Group of Companies, a well-known name in Pakistan's real estate market. This project is situated in a prime area adjacent to Chakri Road, with direct access from the Lahore-Islamabad Motorway, and it is aligned with the Rawalpindi Ring Road.
This real estate project has the Blue World City NOC assigned to it by RDA, and its legal standing is excellent. Even though there have been some legal issues surrounding Blue World City, it remains one of the most popular real estate developments.
The construction of the Rawalpindi Ring Road (RRR) has benefited Blue World City by raising the value of the surrounding land. This incredible real estate project has already generated enormous profits for many, and once Rawalpindi Ring Road is completed, the potential for profit will be even greater.
BAHRIA TOWN PHASE 8 – EXTENSION
It is unnecessary to introduce Pakistan's top-rated real estate project, Bharia Town Rawalpindi. There are several stages to this society, and Pakistani citizens now enjoy international standards of life thanks to the efforts of its officials.
Phase 8 is most likely the final land area that Bharia town will recognize as its final block. As part of Phase 8 expansion, the government currently owns a portion of land close to Rawalpindi Ring Road.
In comparison to the other stages of this amazing real estate project, Phase 8 is now among the least expensive investment alternatives, but its value will undoubtedly increase after Ring Road is completed.
Even though Phase 8 won't have direct access to RRR via Adiyala Interchange, investors will undoubtedly profit from this Ring Road's accessibility in terms of ROI (Returns On Investments).
TOP CITY ISLAMABAD
Pakistani citizens were given access to a futuristic lifestyle with the establishment of The Top City Islamabad in 2012. The initiative has grown quickly and attained unprecedented levels of success since its inception.
This residential development is conveniently accessible via Kashmir Highway and is adjacent to the New International Islamabad Airport. Top City is a legitimate housing project, and the RDA has given its NOC approval.
The Top City 1 is a community that borders Pakistan's first smart city, the Capital Smart City. It has all the amenities of a smart city, including fiber optics, e-tags, smart meters, and public internet access. This project was ahead of its time simply because of these elements that would make it future-proof.
One of the communities beneath the Rawalpindi Ring Road's alignment is Top City Islamabad; as a result, the land prices in this community quickly reached unprecedented heights. It is clear that Top City Islamabad would rank among Pakitan's most promising real estate developments once the RRR project is completed.
For twin city investors, this home project is an excellent opportunity since, after development and the RRR project are completed, the land price in this location will soar.
It is a well-established fact that the Rawalpindi Ring Road will significantly affect the cost of land adjacent to or beside it. The land that is close to RRR will yield a significant return on investment. The rates will quadruple after Ring Road is completed, which is expected to happen by the middle of 2023.
You can also invest in other famous and most in demand housing societies, such as , Blue World City, Rudn Enclave, 7 Wonders City Peshawar, Taj Residencia, Kingdom Valley, New Metro City Gujar Khan, Forest Town Rawalpindi, University Town Rawalpindi, ICHS Town, Park View City Islamabad, Multi Gardens B17 Islamabad and Nova City Islamabad.
Al Sadat Marketing please contact 0331 1110005 or visit https://alsadatmarketing.com/
Few more real estate housing schemes which are trending now a days in Islamabad by including: Faisal Town Phase 2, Prism Town Gujar Khan, New City Paradise, Eighteen Islamabad, 7 Wonders City Islamabad, Capital Smart City, Silver City Islamabad, The Life Residencia, Faisal Town Islamabad, Islamabad Golf City, Islamabad Model Town and Marble Arch Enclave.
Al Sadat Marketing is an emerging Real Estate Agency headquartered in Islamabad, Pakistan. With over 10+ Years of experience, Al Sadat Marketing is providing its services and dealing all trending housing societies projects in different cities of Pakistan. Islamabad Projects, Rawalpindi Projects, Gujar Khan Projects, Burhan Projects, and Peshawar Projects etc.
Book Your Plot Now: +92 331 111 0005