Mid Town Jhelum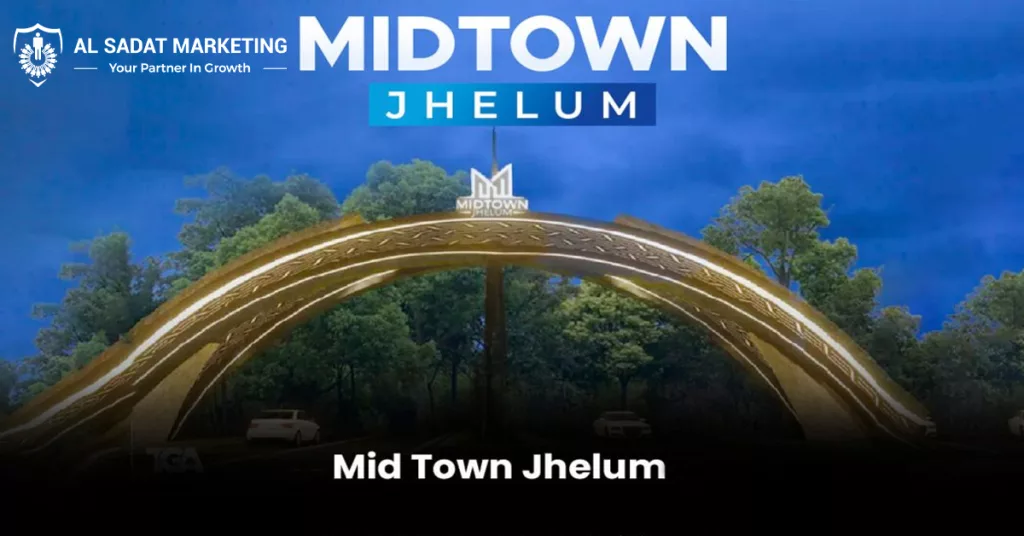 Introduction to Mid Town Jhelum
Mid Town Jhelum, located on GT Road in Jhelum, is one of the best developments in the region created by well-known developers. The housing initiative will be approved by the appropriate authorities soon. Affordability, good location, and well-known developers combine to give it the most rewarding investment opportunity in Jhelum.
It is easily accessible from various surrounding prominent cities, including Rawalpindi and Islamabad. Mid Town Jhelum (MTJ) will be a futuristically beautiful housing development that will be a gift to the residents of Jhelum's ancient city. MTJ would provide a one-of-a-kind living environment with opulent amenities never seen before in Jhelum. Commercial and residential properties of various sizes are available, including 5 Marla, 8 Marla, 10 Marla, 1 Kanal, and 2 Kanal.
Mid Town Jhelum Developers & Owners
Mid Town Jhelum was created by well-known Jhelum developers. To provide the highest competence in property development, highly skilled individuals have been hired. The team includes architects, engineers, urban planners, and other material-supply contractors. The managers and developers have devised a comprehensive plan to make the development process efficient and quick.
The developers ensure the installation of infrastructure on international standards that are worldwide implemented in real estate projects. High-tech security equipment is also included in the plan, which places it among the top residential buildings in Jhelum. Investors are showing a strong interest in the project and are investing on a massive scale.
Mid Town Jhelum NOC
The competent authorities have not yet accepted the Mid Town Jhelum No Objection Certificate (NOC). Legal housing developments have a better probability of success and selling a significant number of units in a short period of time. Investors are also optimistic about NOC-approved projects.
Mid Town Jhelum Location
Mid Town Jhelum is conveniently located on GT Road in Jhelum. When it comes to successful properties, good location is quite important.
Mid Town Jhelum Map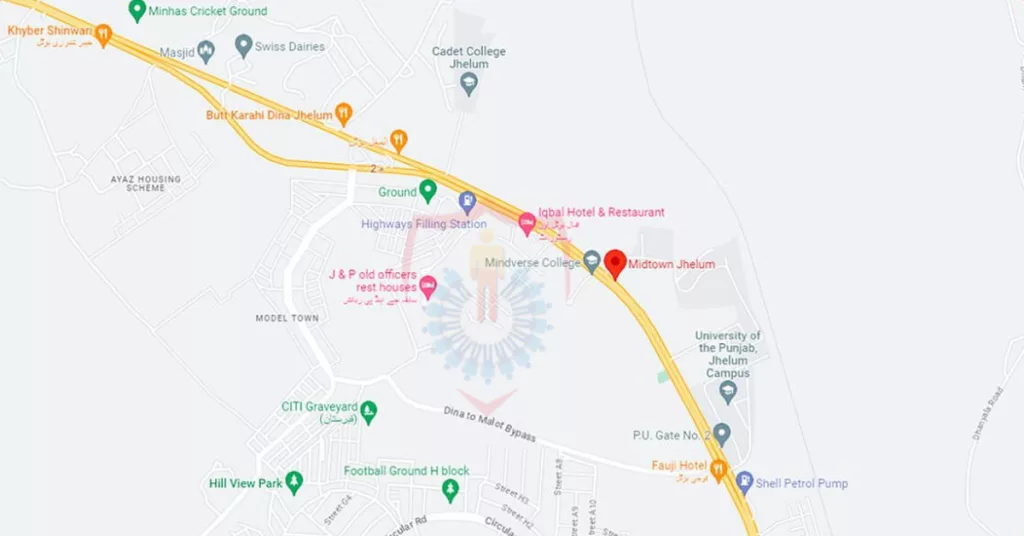 Mid Town Jhelum offers easy access from multiple locations.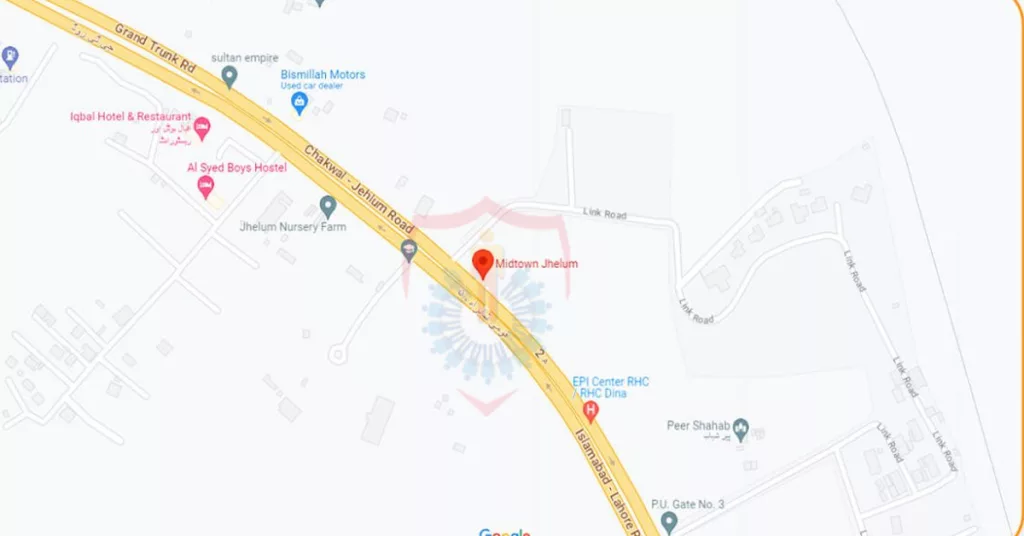 Mid-Town Jhelum Accessibility Points
Mid Town Jhelum is quite an accessible housing scheme.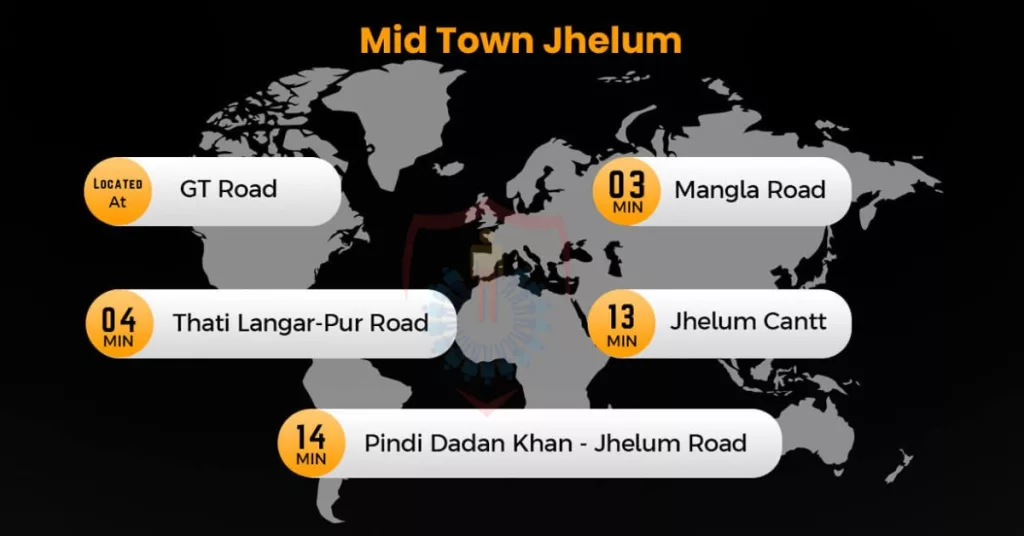 Mid Town Jhelum is accessible in the following ways:
Mid Town Jhelum is located at GT Road
Almost 3 min drive away from Defense Road
Almost 4 min drive away from Thati Langar-Pur Road
Almost 13 min drive away from Jhelum Cantt
Almost 14 min drive away from Pind Dadan Khan – Jhelum Road
Almost 10 min drive away from Mangla Road
Mid Town Jhelum Nearby Landmarks & Places
Mid Town Jhelum is surrounded by nearby landmarks & Places:
Jhelum City
Jhelum River
Jhelum Cantt
Sarai Alamgir
Kashmir Colony
Satellite Town Jhelum
Cadet College Jhelum
University of Punjab, Jhelum Campus
Mid Town Jhelum Master Plan
Mid Town Jhelum's master plan was created by a highly competent team of professionals with years of town development experience. The teams are working around the clock to complete the project in close collaboration with management to ensure that no stone is left unturned in achieving the highest level of quality.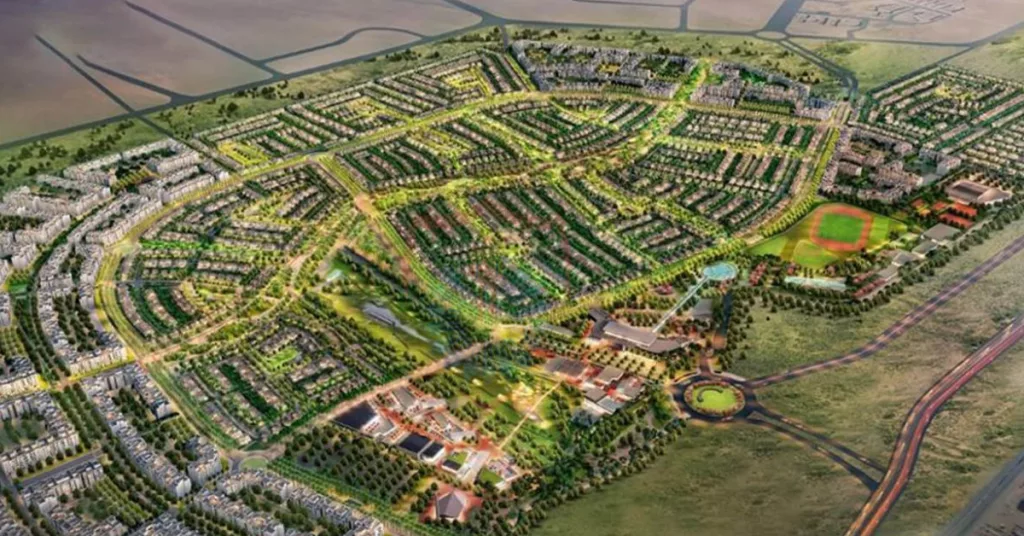 Mid Town Jhelum Residential Plots
Mid Town Jhelum 5 Marla plot for sale
Mid Town Jhelum 8 Marla plot for sale
Mid Town Jhelum 10 Marla plot for sale
Mid Town Jhelum 1 Kanal plot for sale
Mid Town Jhelum 2 Kanal plot for sale
Mid Town Jhelum Payment Plan
Mid Town Jhelum's payment plan is fairly inexpensive, with easy installments. The plots for sale in Mid Town Jhelum are available for booking at reasonable prices. Investors are paying close attention to the rapid development.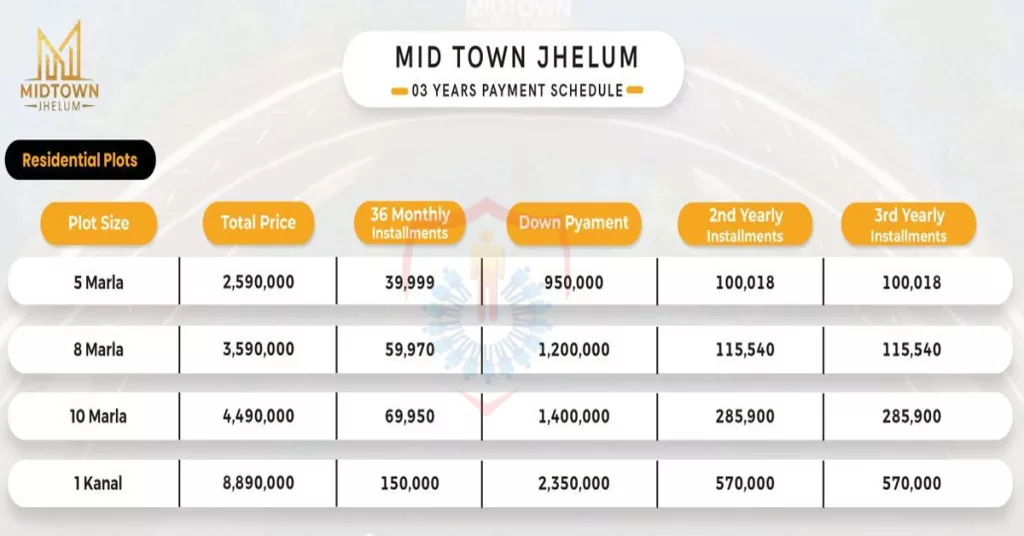 Pictorial Representation of Development in Progress
The development of Mid Town Jhelum is notable in that it is already underway, and a large portion of the region has been created. The remainder of the property is being developed at a rapid rate.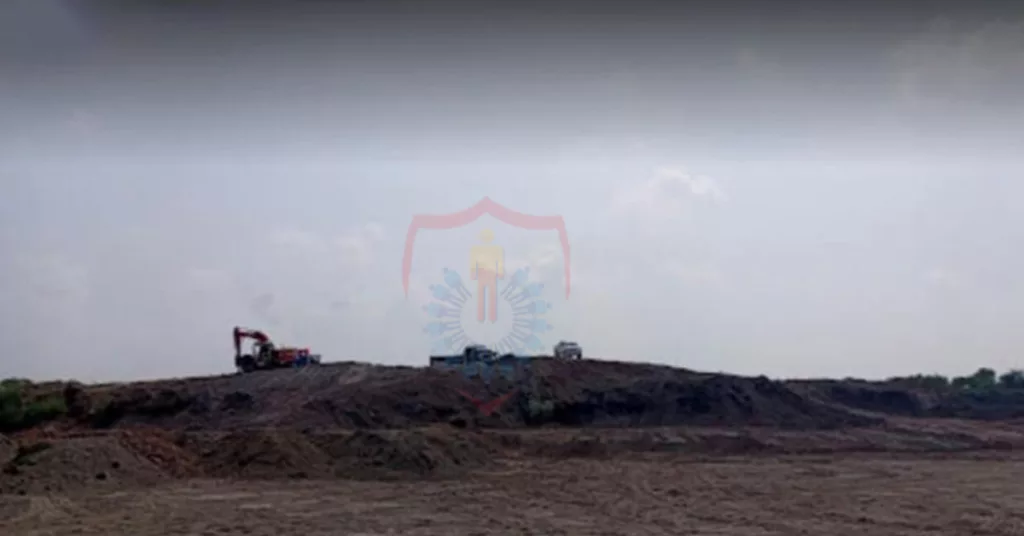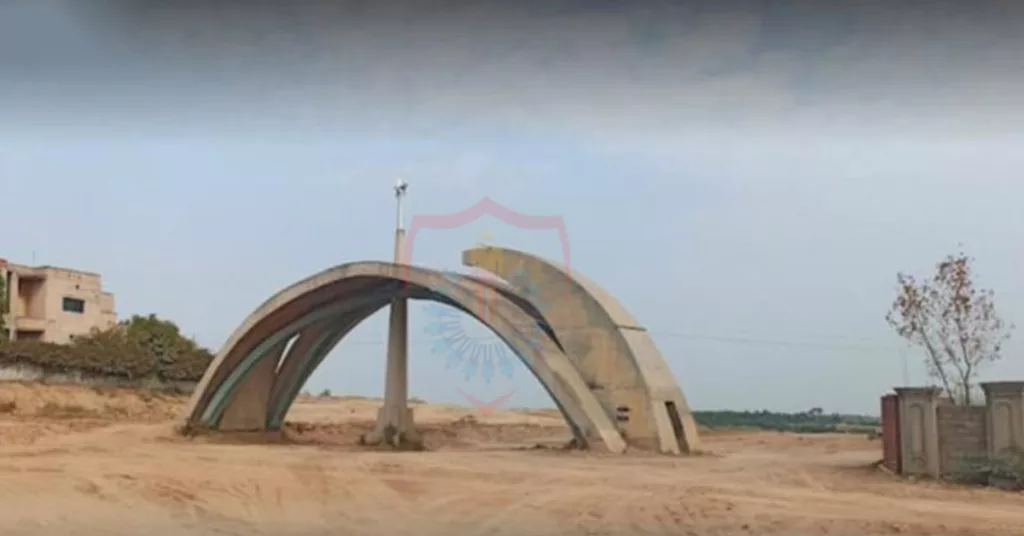 The expected major Mid Town Jhelum developments that will be completed at a fast pace will include:
Mosques
Smart Villas
Linear Park
Link Roads
Plot Cuttings
Street Lights
Smart Homes
Overhead Tanks
Main Boulevard
Operational Tube Wells
Site Office and Marketing Office
Mid Town Jhelum Latest News
The most recent Mid Town Jhelum news is that the residential society has released a new payment plan that offers a range of return on investment (ROI) with large earnings.
Mid Town Jhelum Balloting
The Mid Town Jhelum balloting will take place in several stages. Mid Town Jhelum contact number is always available to answer your questions.
Mid Town Jhelum Balloting Results
The official website provided access to the plot balloting results.
Mid Town Jhelum Application Form
The application form for Mid Town Jhelum can be downloaded and submitted through the official website. However, first consult with management.
You must include the following documents with your application form:
Passport size photographs
Copy of CNIC or passport
Copy of NICOP
Copy of payment receipt
Screenshot of online payment slip
Mid Town Jhelum Membership Form
The membership form can be obtained from the official management of the residential society.
Mid Town Jhelum Registration Form
You can also obtain the Mid Town Jhelum Registration Form by contacting the residential society's support center.
Mid Town Jhelum Development Charges
We recommend that you contact the Mid Town Jhelum Customer Support Center to inquire about the development fees. However, it is worth noting that the developers have decided to incorporate the development fees.
Mid Town Jhelum Amenities & Facilities
Mid Town Jhelum offers modern facilities and services at reasonable prices. The amenities are a component of any luxurious contemporary multi-purpose project, which could be referred to as a full real estate project.
Mid Town Jhelum has the following amenities:
Smart Housing Mid Town Jhelum introduces the concept of smart housing in order to provide the highest quality living standards at the lowest possible cost. The housing society offers smart homes and smart villas that are outfitted with smart technologies.
Smart Housing
Mid Town Jhelum is endowed with natural amenities and qualities that set it apart from other housing societies in Pakistan. It is not only a smart city, but it is also environmentally friendly. The designers and owners worked together to conserve a huge portion of land for green scenic splendor. It also provides hydroponic farms that rely on water resources.
Eco-Friendly
The project will offer an environmentally sustainable, close-to-nature lifestyle with all modern conveniences. The intimate proximity to nature will deliver a one-of-a-kind experience not available anywhere else in Pakistan.
Water Resources
The project considered the residents' water requirements. Water reservoirs will be built for this purpose to store a huge volume of water for residents to use for everyday chores.
Business & Commercial Hub
All economic and commercial requirements have been met by the creators. As a result, the project will have an all-in-one commercial space. Residents can meet all of the project's commercial needs from these sites.
Secure Project
A sense of security is required for a housing project. A security system with precisely fitted 24/7 CCTV cameras and other surveillance equipment will give people with all-encompassing security. Furthermore, the project will be surrounded by a boundary wall equipped with a foolproof mechanism to provide maximum safety.
Mid Town Jhelum Salient Features
The following are the key elements of Mid Town Jhelum:
Shops
Affordability
Accessibility
24/7 Security
Maintenance
Glow Park
Gymnasium
Eco-community
Water Resources
Beautiful Entrance
Quality Development
Water, Gas, Electricity
250 Feet Wide Main Boulevard
Sewerage and Waste Disposal System
World-class Infrastructure Development
Close to CPEC Route and Economic Zone
Why Invest in Mid Town Jhelum?
There are numerous reasons to consider investing in Mid Town Jhelum. It is the ideal investment opportunity for any investor wishing to invest in a profitable project. The following are some of the primary reasons to invest in Mid Town Jhelum:
Affordable
Eco-friendly
Prime Location
Spacious Properties
Luxurious Amenities
Well-known Developers
International Infrastructure Development
Guidelines to follow while Purchasing/Sale of Plots:
Following are the guidelines to follow:
Document Verification
Please ensure that all documentation is thoroughly verified to avoid any confusion or misunderstanding. Before entering into any property acquisition or sale, ensure that the developers' NOC and approval documents have been duly approved by the authorities. As a result, your documentation will be valid in all ways that may provide client satisfaction.
Financial Security
Please ensure that your funds correspond with your buying strategy before finalising any property sale or purchase. In this manner, your buy or sale will go smoothly.
Property Visits
Before making any purchases and after ensuring the legitimacy of the documents, visit the site to ensure that the written documents are within the plot parameters.
Documentation Requirement for Booking in Mid Town Jhelum
Al Sadat Marketing values our customers' confidence and openness, so we recommend inquiring about the most recent documentation requirements for booking. Residential and commercial plots can also be reserved in other developments such as Blue World City, Kingdom Valley Islamabad, and Nova City Islamabad.
The following documents are required to buy property in Mid Town Jhelum:
Two passport size Pictures
NICOP for overseas clients
Two copies of your National Identity Card
Two copies of the I.D. card of your next Kin
Benefits of Real Estate Investment
Among other things, real estate investment is one of the most profitable industries. This is due to its high investment return potential. The important thing to remember is that it will only be beneficial if done correctly. Investing in the real estate market can provide a variety of advantages. The following are some of the primary advantages:
1. Financial Security
If a person has some spare money or an asset that he wants to keep the worth of, the real estate industry is the sector that can keep the value of investment high and not depreciate.
2. Stable Income
Real estate investment can immediately create a consistent income. For example, one can buy a property, develop it, and then rent it out monthly or yearly. Not only that, but the rent grows by a certain amount every year, therefore it is not incorrect to state that it improves rather than remains unchanged.
3. Manageable
Once an investment is completed, it is not like a live entity that must be cared for on a regular basis. The most you'll have to do is check your property every now and then to make sure it doesn't fall into the hands of encroachers.
4. Passive Income
After purchasing a real estate property, passive income such as rent can be earned. Investors purchase a constructed property or develop open land and then rent it out, assuring a consistent stream of income throughout the year.
5. Non-depreciable Asset
When done correctly, real estate investing is a type of business that will never lose its worth. Every year, the value of real estate rises. And if a large government or commercial project is initiated in the area, the value may skyrocket.
Booking Procedure for Mid Town Jhelum
Al Sadat Marketing constantly urges our valued customers to seek clarification from management regarding the most recent booking method. The booking process is as straightforward as possible.
All you have to do is follow the steps mentioned below:
Fill out your booking application form with full attention
Attach the CNIC Copies of the Applicant
Pay Down Payment via Cheque or Pay order in favor of "Mid Town Jhelum" but confirm the management process in case of new changes
Cash Payments are also accepted after confirmation by the management
Submit all the required documents, Payment, and Get the receipt
Mid Town Jhelum Pros & Cons
Following are the Pros & Cons of the Mid Town Jhelum:
Pros
24/7 Water
24/7 Electricity
24/7 Gas
Schools
Colleges
Theme Parks/recreational Areas
Grocery/shopping Centre/markets/malls
Peaceful/ Healthy/secure Environment
Gated Community With Security Gates, Surveillance Systems, CCTV Cameras & Guards
Very Close to the Central Locations & Other Societies
The Vast and Well-planned Carpeted Main Boulevard, Roads, Streets, Lanes & Walk-ways for Pedestrians
Well-planned Drainage & Waste Disposal Systems
Green, Innovative and Sustainable Housing Society
Security System
Solid Waste Disposal Mechanism
Cons
Perception of High Plot Rates
Frequently Asked Questions (FAQs)
Following are the FAQs about Mid Town Jhelum:
Q1: What is Mid Town Jhelum, and how is it different from other projects?
Ans: Mid Town Jhelum is a multi-purpose project designed and developed to offer a unique living experience to residents at affordable costs. A team of engineers, architects, and other staff with years of experience have put their full efforts into its development.
Q2: Is Mid Town Jhelum an approved and legal project?
Ans: The NOC of the Mid Town Jhelum is not yet approved by the competent authority.
Q3: Is Mid Town Jhelum an affordable property project?
Ans: Yes, there is no doubt because of the easy Mid Town Jhelum installment plans. The management has played a crucial role in balancing luxury and affordability.
Q4: Does Mid Town Jhelum has a potential for high investment return?
Ans: Yes, because the Mid Town Jhelum payment schedule is affordable for families and small investors, increasing the chance of high-yield investment returns.
Q5: What is the current location map of Mid Town Jhelum?
Ans: Mid Town Jhelum is located at GT Road. You can also check the live location or GPS location of the project from Google Maps.
Q6: Who are the developers of the Mid Town Jhelum?
Ans: Mid Town Jhelum is developed by real estate developers. Urban developers are well-recognized among investors.
Q7: How to book a property in Mid Town Jhelum?
Ans: Following are the expected steps to be followed to book a property in the Mid Town Jhelum:
Contact the salesperson or Sky Marketing and provide all the necessary information
Select property size:
Fill out all the personal information correctly
Data entry of the nominee
Enter the payments
Genuine signature
Q8: What is the Mid Town Jhelum head office contact number?
Ans: Inquire about the contact number of the Developers from Sky Marketing.
Q9: What is the way for Mid Town Jhelum tracking?
Ans: You can track your booking from the Mid Town Jhelum official website.
Q10: Would there be any surcharge on late payments on plot booking in Mid Town Jhelum?
Ans: All late payments might be subject to a surcharge. It is according to the terms and conditions mentioned in the booking form.
Q11: Who is the owner of the Mid Town Jhelum?
Ans: Famous developers are developing Mid Town Jhelum.
Q12: Is Mid Town Jhelum a good investment opportunity?
Ans: Yes, undoubtedly, Mid Town Jhelum is the best investment opportunity.
Q13: Is there an account number for Mid Town Jhelum?
Ans: Yes, there is a Mid Town Jhelum account number to which you can submit your payments.
Q14: Is Mid Town Jhelum Zameen profitable to buy?
Ans. Yes, in layman`s terms, the zameen of Mid Town Jhelum can bring you unimaginable profits.
Q15: What is the Mid Town Jhelum helpline number?
Ans: The contact number of Mid Town Jhelum could be inquired from the management of Sky Marketing.
Q16: What is the Mid Town Jhelum address?
Ans: Mid Town Jhelum, GT Road, Burhan Interchange, M-1 Motorway.
Q17: What is the latest update on Mid Town Jhelum 2023 payment plans?
Ans: The latest update for the next year will be shared soon.
Q18: Are Mid Town Jhelum and Mid Town Jhelum having a merger?
Ans: No, there is no such merger information at the moment.
Q19: Are Mid Town Jhelum and Sky Marketing sales partners?
Ans: No, Sky Marketing and the Mid Town Jhelum are not authorized sales partners.
Q20: What are road sizes in Mid Town Jhelum?
Ans: The roads are quite wide, including 40 feet, 80 feet, 100 feet, 120 feet, 150 feet, 180 feet, and 250 feet.
Q21: Is it possible to visit the Mid Town Jhelum office?
Ans. Yes, you can visit the office of the Mid Town Jhelum.
Q22: What plot sizes are available in Mid Town Jhelum?
Ans. Mid Town Jhelum plot for sale is offered in different sizes, including 5 Marla, 10 Marla, and 1 Kanal.
Q23: Did Mid Town Jhelum launch a new master plan?
Ans. Yes, Mid Town Jhelum' new master plan was launched with much more detail than the previous one.
Q24: Are Mid Town Jhelum plots on installments available?
Ans. Yes, Mid Town Jhelum offers residential and commercial plots in easy installments.
Q25: Is Mid Town Jhelum booking open?
Ans. Yes, the booking of the Mid Town Jhelum is fully operational.
Conclusion
Mid Town Jhelum is a magnificent residential and commercial project that is being developed with one goal in mind: to give residents with a world-class extravagant lifestyle. This project's major advantages include modern facilities, affordability, and a great location. Contact us to purchase one of the available plots. We can also give you the Mid Town Jhelum account information.
You can also invest in other famous and most in demand housing societies, such as , Blue World City, Rudn Enclave, 7 Wonders City Peshawar, Taj Residencia, Kingdom Valley, New Metro City Gujar Khan, Forest Town Rawalpindi, University Town Rawalpindi, ICHS Town, Park View City Islamabad, Multi Gardens B17 Islamabad and Nova City Islamabad.
Al Sadat Marketing please contact 0331 1110005 or visit https://alsadatmarketing.com/
Few more real estate housing schemes which are trending now a days in Islamabad by including: Faisal Town Phase 2, Prism Town Gujar Khan, New City Paradise, Eighteen Islamabad, 7 Wonders City Islamabad, Capital Smart City, Silver City Islamabad, The Life Residencia, Faisal Town Islamabad, Islamabad Golf City, Islamabad Model Town and Marble Arch Enclave.
Al Sadat Marketing is an emerging Real Estate Agency headquartered in Islamabad, Pakistan. With over 10+ Years of experience, Al Sadat Marketing is providing its services and dealing all trending housing societies projects in different cities of Pakistan. Islamabad Projects, Rawalpindi Projects, Gujar Khan Projects, Burhan Projects, and Peshawar Projects etc.
Book Your Plot Now: +92 331 111 0005