Solar Industry Likely to Be Exempted From All Taxes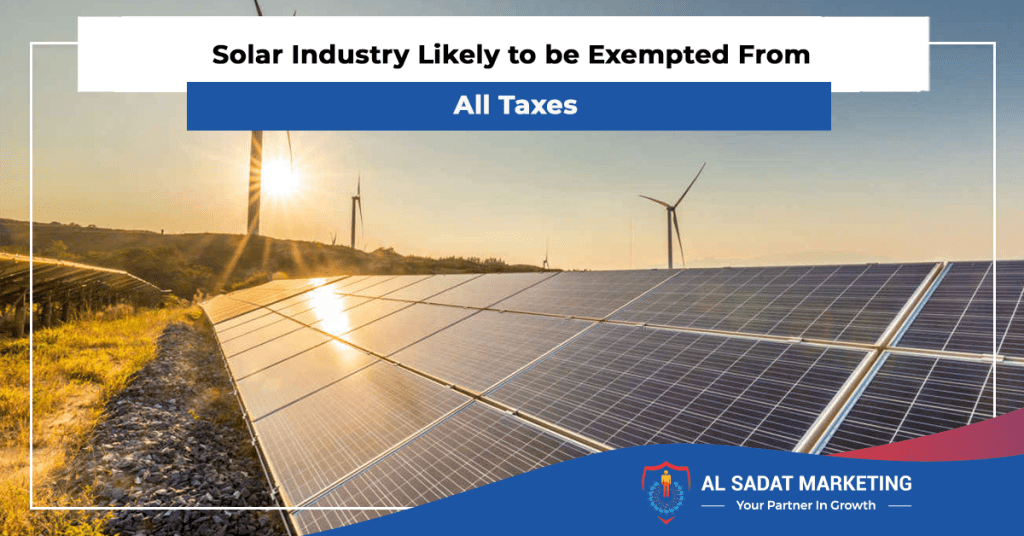 ISLAMABAD, January 30, 2023- To reach the 10,000 MWp solar plant target and support the local economy, the government may exempt solar equipment from all taxes.
The Ministry of Industries and Production (MoI&P) will present a "Solar Panel and Allied Equipment Manufacturing Policy 2023" to the cabinet's Economic Coordination Committee (ECC).
The energy crisis and trade restrictions have put pressure on the country's balance of payment, so the government has prioritized increasing the share of indigenous energy resources to 90.2 percent by 2031 as part of the Indicative Generation Capacity Expansion Plan (IGCEP), mostly through renewable energy sources. To alleviate energy difficulties, the prime minister has allowed 10,000 MW of solar energy.
Read More: Top 5 Solar Companies in Pakistan
Investors in Pakistan's solar PV panel and equipment production facilities are projected to develop a big market for solar modules and related equipment. Local manufacturing requires government policy. Solar panel imports are taxed at 17%, but full panels are duty-free. The new policy provides a 10-year policy framework for long-term investment. It also requests duty-free imports of inputs and solar panel manufacturing plant, machinery, and equipment.
The policy also recommends an unbiased sales tax regime for manufacturers and importers, a 10-year tax holiday for existing/new solar manufacturing plants, bank financing/loans at low-interest rates, supporting exports through adequate incentives, preferring locally made solar panels and allied equipment in government procurement, incentivizing international standard and accredited laboratories, and the constitution of Imple.
The proposal supports local industry. It will help the government provide clean, inexpensive energy, combat climate change, save foreign cash, and boost exports through local and foreign investments. Aluminum, frame, cable, and other industries would benefit from the suggested plan.
To get more news on Real Estate and infrastructure developments, please contact 0331 1110005 or visit www.alsadatmarketing.com
Al Sadat Marketing is a real estate firm located in Islamabad & Rawalpindi in Pakistan. With over 7+ Years of experience, Al Sadat Marketing Company is providing its services to all trending societies in Islamabad and Rawalpindi.
Al Sadat Marketing
0331 1110005
Head Office: First Floor, Yasin Plaza, Blue Area Main Jinnah Avenue, Islamabad